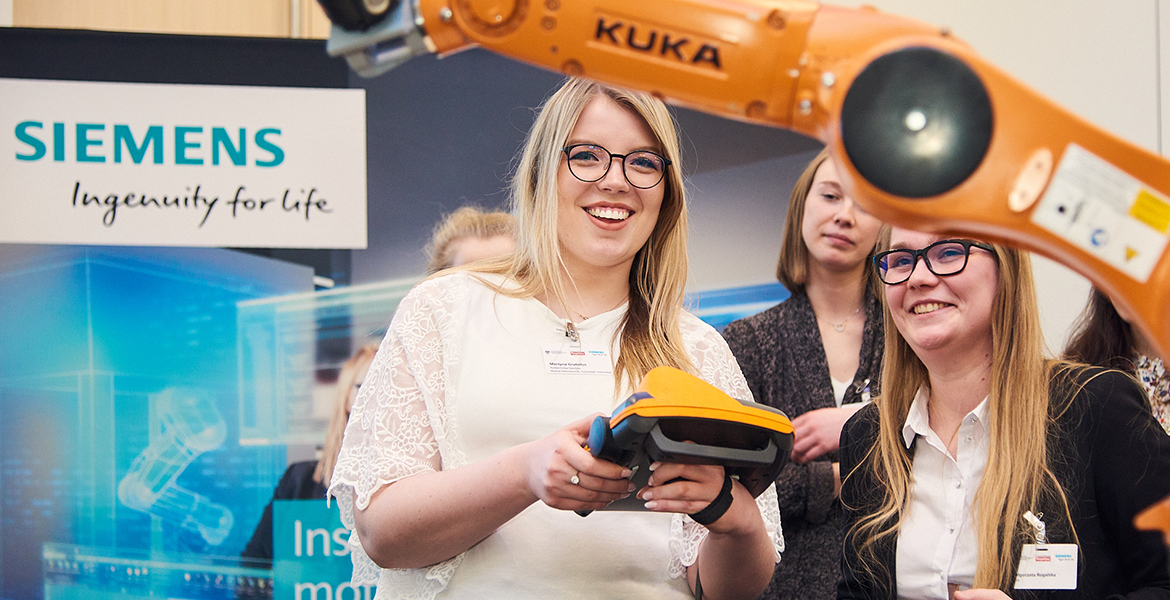 04.04.2019
For the second time, Siemens addressed its training program at female students of technical universities with the aim to improve their qualifications and facilitate their professional start, with particular emphasis on Industry 4.0. Out of almost 200 applications from 26 technical universities in Poland, 30 students were qualified for the program.
Workshops with Siemens board members and industry experts were held in Warsaw on 14th, 22nd and 25th March. The participants had the chance to, among others, test AR goggles, familiarize themselves with a KUKA robot, find out about the newly-built Mercedes-Benz engine factory in Jawor and take part in a video workshop with blogger Janina Bąk about building a personal brand online. At the end, certificates of attendance were handed to the students by the Siemens CEO, Dominika Bettman.
A competition for the best film entitled "Engineer's work as an answer to the modern world challenges" was announced during the workshops. The prize was a trip to the world's largest industrial fair, Hannover Messe 2019, alongside Siemens experts. This opportunity was given to four winners chosen by the jury, representing the following technical universities: Lublin University of Technology, Warsaw University of Technology, Silesian University of Technology and Wrocław University of Science and Technology.
Perspektywy Educational Foundation and the Ministry of Enterprise and Technology were patrons of the program. Omega Communication was responsible for the concept and implementation of the project.